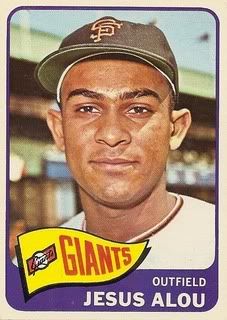 I enjoyed the publication "Baseball Digest" in my youth. It was a collection of human interest articles about major league baseball. The publication appealed to true readers, not people who were turned on by lots of pictures and graphics.
I came across an article about the youngest of the three Alou brothers one day. I think I can remember the headline word-for-word. Surely this is the gist of it: "The newest Alou presents a problem." My, what was this problem? His first name was "Jesus." Several players with that name have come into the major leagues since. Jesus Alou was the first. Today we think nothing of the name, just like we think nothing of all the non-Anglo names that have become common in pro sports.
Let's backtrack to the 1950s and early '60s: major league baseball had what some people would call a "white bread" look, like an extension of "Father Knows Best" or other like shows, described by one cultural observer as "benevolent Aryan melodramas." Anglo names predominated.
I would suggest that big league ball was more of a dichotomy: the prevailing white players with names like "Bob Allison," and of course the black or "Negro" players who made inroads (not good enough, I'm sure) in the 1950s. The dichotomy in our society allowed the Jim Crow system in America's South. Being able to clearly differentiate between "white" and "black" made the system serviceable in its ugly way.
Society was of course headed toward change. the dichotomy was going to break down. The human race in the U.S. was going to become much more diversified.
Jesus Alou was part of the first great wave of Dominican players who came to the major leagues. Jesus was the 13th player with this background to join the bigs. His first name is not connected to the Christian savior. It's not pronounced that way either. The pronunciation is "hay-SOOS." The writer of the article in Baseball Digest was concerned about that first name, its identical spelling to the Savior. He was not alone. I am not going to fault him for his thinking at the time. Ethnocentric attitudes must often be considered in the context of the times. I must admit I wrinkled my forehead when first seeing the name.

Reacting to "different" names
Non-Anglo-sounding names often had us young white kids wrinkle our foreheads. Unfortunately we'd often react in a smart-aleck teasing way about such names. We might want to mock. Such was the outlook us boomer kids would have. We're ashamed reflecting on that now. We might not want to admit we reacted with amusement to the name "Bombo Rivera." Rivera was a Twin, remember? I remember a cringeworthy headline in the Star Tribune: "Bombo, Twins bomb Seattle." Ugh. first off, it's disrespectful in a headline to have a reference to someone by his first name. We all know what the paper was up to: finding levity in a name that seemed foreign to us. I seem to recall a Bombo Rivera fan club forming on the Twin Cities campus of the University of Minnesota. It would not have existed were it not for the then-novelty of his first name.
These non-Anglo players must have felt offended and hurt. "What a strange land we're in now." Indeed, strangers in a strange land.
American writers and broadcasters were uncomfortable with the "Jesus" name, even though it was pronounced so separately from the Bible person. I read about this issue in Jim Bouton's seminal book "Ball Four." Bouton was a teammate of Jesus on the Houston Astros late in the 1969 season. Given that Bouton was a character with a "back of the bus" sense about things, he and his like fellows called the Dominican fellow "Jesus" with pronunciation like the Savior, or just "Jay." It seemed to be not out of dislike at all, rather it was out of a feeling of fun or irreverence.
I refer to "Ball Four" as seminal because it was a pioneering sports book that presented athletes as multi-dimensional human beings with faults.
Bouton informed us that Jesus was sensitive in the sense he might get sick or throw up easily. So when Doug Rader presented a birthday cake to someone in the clubhouse, a cake apparently decorated with a fake turd, Jesus had to run to the bathroom stall and throw up when everyone discovered that the turd wasn't fake! Rader then commented that he was "trying for a bow" with his decoration but that "I didn't make it." I think clubhouses are more serious places today. There's more money in baseball.
Baseball today is also a virtual rainbow of races, ethnicities and names. None of this turns heads anymore. "Father Knows Best" tried introducing us to multi-ethnic thinking with its Hispanic character "Frank Smith," remember? Well, the name wasn't ethnic.
Resistance to the name, but happy ending
When Jesus was about to begin his first season with the San Francisco Giants, a local writer asked local religious leaders about the situation. They all agreed he needed a nickname. They couldn't stomach a newspaper headline like "Jesus saves Giants." Writers often opted to call the young man "Jay."
In 1965 the player was quoted saying "what is wrong with my real name, Jesus? It is a common name in Latin America like Joe or Tom or Frank in the United States. My parents named me Jesus and I am proud of my name."
It took time, but by the end of his career, no one had any reservations about his real name anymore. Happy ending.
Jesus was one of three famous brothers to play in big league ball. There is an issue or quirk with the last name too. It should have been "Rojas" as in "Cookie Rojas" who I remember with the Philadelphia Phillies. Cookie played in the same infield as Bobby Wine, thus one clever writer came up with "days of Wine and Rojas." Rimshot.
Let's look at the "Alou" name issue: The family name in the Dominican Republic is the paternal family name. Jesus, Matty and Felipe should have been known as "Rojas." But, eldest brother Felipe and hence his brothers became known by the name "Alou" when the Giants' scout who signed Felipe mistakenly thought his matronym, "Alou," was his surname. The Rojas Alou brothers' maternal grandfather, Mateu Alou, was an immigrant from Felanitx, Spain, who emigrated to the Dominican Republic in 1898.
Felipe was the first Dominican to play regularly in the major leagues. Moises Alou is Felipe's son. Jesus had a 15-year baseball career, playing for the Giants, Astros, Athletics and Mets. He was a fine player but with one notable weakness: no inclination to draw walks at all. They say "a walk is as good as a hit" but that's not exactly true. A walk puts you in position to score but it can't drive in runners from second and third.
On July 10 of 1964, Jesus went six-for-six with five singles and a home run. He had a tic when batting: jerking his neck, which he said was just a mental thing. Such are the kind of things we remember about our old baseball heroes.
Jesus was a very friendly and sensitive player who teams just liked having around. Even in the midst of gags like with the birthday cake.
Addendum: When my ninth grade French teacher wanted us to adopt French names, I was read a list and picked "Philippe" because it sounded like "Felipe" of the Alou brothers! I didn't realize until later the spelling was different.
- Brian Williams - morris mn Minnesota - bwilly73@yahoo.com