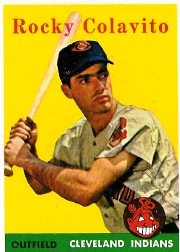 Toby Tyler ran away to join the circus. Within all of us there is admiration for an inspired young soul that wants to join a glamorous occupation. The kids don't respect the shackles that society seeks to impose on them. Thus we should recognize Rocky Colavito.
Colavito was an American League baseball star who appeared on diamonds in the '50s and '60s. We visualize him as a Cleveland Indian. He grew up in the Bronx, NYC, but was not destined to be a Yankee. Only at the end of his career was he present "for a cup of coffee," as it were, with the Yanks.
Let's rewind to the start. We learn that "by age nine" he was playing semipro baseball. I'd be a batboy at that age. (We were "compensated" with taped, i.e. broken, bats.) This Toby Tyler-like story continued with Rocky dropping out of school at age 16 to pursue his baseball dream. Way to go! Major league rules were a complication for this starry-eyed young man. Rules stated that he had to wait until his school class graduated. Somehow he was able to succeed with a "special appeal." (Was he hopeless in school?)
This young man was destined to play high-caliber baseball. The Yankees didn't see it get. They passed on him. Into the picture came Cleveland, not a marquee team like the Yankees. But it was big league. Rocky got inked by Cleveland in 1950. There was an asterisk, though: two-thirds of the signing bonus was deferred until he progressed in their system. Patience was needed. Stardom was elusive for a time. All kinds of crazy up and down stories characterize our national pastime.
Rocky spent about six years paying dues and striving to climb the ladder. In 1954 some of that slugger potential came forth, when he was wearing the uniform of the Indianapolis Indians. Harmon Killebrew played for Indianapolis too in the late 1950s. Harmon actually came to Metropolitan Stadium, Bloomington MN, to play in 1958, which was three years before his team of destiny, the Twins, were born.
Rocky Colavito hit 38 home runs and drove in 116 runs in his seminal 1954 season. He made a minor ripple with the big league Indians in 1955 (the year I was born). Then in '56, he pulled on a uniform in the Pacific Coast League. There was a time when that league had a reputation of being nearly as good, or just as good in some cases, as the bigs. Major league baseball moved west in the late 1950s. The Giants and Dodgers got started in California, and Calvin Griffith's Twins left the nation's capital for our Upper Midwest environs.
The days of train travel with its limitations had ended. "Quaint" describes train travel now. It's the stuff of scenes in old movies.
July of '56 saw Rocky get the call to join the Indians. He was ready to make a name for himself. We should note that Rocky's given name was "Rocco." Our hero batted .276 with 21 home runs and got a vote for A.L. Rookie of the Year. In '57 he fell out of the groove a little, marking time with a .252 average. Then in '58, he had the big league pitchers figured out. He soared to a .303 batting average. He made considerable noise with his 41 home runs. He was just one homer behind Mickey Mantle. Rocky drove in 113 runs in 1958. He was No. 3 in MVP voting.
In '59 he maintained his homer pace, becoming the first Indian to achieve two 40-home run seasons. He socked 42, tying our Killebrew for tops in league. He was No. 4 in MVP voting. He was an all-star. He would be a six-time all-star. He built a legend around himself when on June 10, 1959, he hit four homers in consecutive at-bats in Baltimore! As a Detroit Tiger later in his career, he hit four homers in a doubleheader. Rocky would hit 30-plus homers in seven seasons. He carved out a fine defensive reputation too, playing the outfield with a strong arm.
Cleveland loved him - he always accommodated the autograph-seekers. He went to Detroit in 1960 via a blockbuster and controversial trade. Why on earth would general manager Frank Lane trade this flashy player? Talk of the trade continued for years, even germinating a theory called "the curse" regarding Cleveland and its frequent futility.
Colavito was spectacular as a Tiger in 1961, the first year of our Minnesota Twins and also the year, you'll remember, when Roger Maris hit 61 home runs. Colavito's bat resonated with 45 home runs. He had the monster RBI total of 140. He scored 129 runs. He was No. 8 in MVP voting. Oddly, he wasn't as well accepted in Detroit as in Cleveland. He switched from right field to left due to Al Kaline being parked in right for Detroit.
An odd feud developed between Rocky and sportswriter Joe Falls, who I remember being a contributor to The Sporting News when I was in high school. I liked Falls but I think less of him now, having read about the conflict with Colavito. Falls created a stat for Colavito: "run not batted in." Why? So petty.
Colavito moved on to the Kansas City Athletics for the '64 season. He reached 300 career home runs as an Athletic. Then he was brought back to where it all began, to Cleveland. but in that trade the Indians had to relinquish Tommy John. Not only that, the Indians jettisoned Tommie Agee. Remember Agee? He starred with the amazing Cinderella story of the 1969 New York Mets.
Colavito had gas left in the tank for his finale as an Indian. He was an all-star in 1965 and '66. He led the American League in RBIs (108) and walks (93) in '65. That was the year our Twins won the pennant. I'm sure our fans were excited to see Rocky at our Met Stadium.
He built a journeyman reputation when he was traded to the White Sox in July of 1967. Then it was on to the Los Angeles Dodgers of the National League. He was past his prime but not past creating special excitement. As a Yankee in 1968, Rocky became the last position player until Brent Mayne in 2000 to be credited as the winning pitcher in a game. He pitched a scoreless two and two-thirds innings against his old team, the Tigers. He also scored the winning run in that game. It was the first game of a doubleheader, and in game 2 Rocky homered. What a denouement in this Toby Tyler-like story: a man totally in love with his profession of destiny.
Such a career story lends itself to Hall of Fame status. Had he played most of his career with the Yankees, I think he'd be in. I strongly feel he ought to be in the Hall anyway. His problem was that he slid into decline a little too early. Baseball players today have much better longevity. Personally I think the Hall puts too much weight on sheer longevity. Why can't Tony Oliva be in the Hall?
I don't think I ever saw Rocky Colavito play in-person. The Indians weren't a big attraction. The Indians were rumored to be a candidate to move to Minnesota in the late '50s. We also heard that talk about the Giants. If the Indians had come here? My, we'd see a statue of ol' Rocco in downtown Minneapolis somewhere. I'm happy for all of his success.
You have to pat "Rocco" on the back for his lifelong love of the American pastime.
- Brian Williams - morris mn Minnesota - bwilly73@yahoo.com