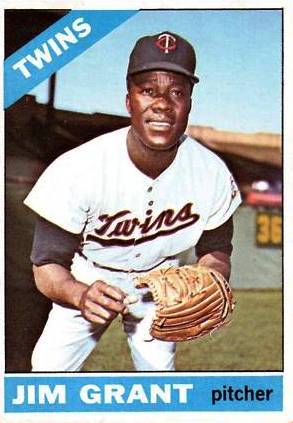 We cheered Jim "Mudcat" Grant in '65.
It was William Faulkner, of course, who said "the past is never dead - it's not even past." Well, the past
did
seem dead (or removed) in major league baseball in the mid-1960s. Our Minnesota Twins were part of a new era that brought a burgeoning of the sport into the west. Previously, a trip to St. Louis was "a trip west."
St. Louis? It might have seemed somewhat of an outpost at one time, a steamy hot outpost for many summer dates to be sure. At least Minnesota wouldn't present that discomfort. Minnesota might have some of its own weather travail in April and September to be sure. But Minnesota would have its charms with its new Metropolitan Stadium, a facility that seemed at first to be the last word in baseball facilities.
"The Met" became obsolete faster than we might have expected. But in 1965 it still had a "new car" sort of sheen. And boy, did our Minnesota Twins ever purr like a new car.
How can we assert "the past was dead?" Our Twins used to be the Washington Senators. Our '65 World Series opponent, the Los Angeles Dodgers, used to be those beloved Brooklyn Dodgers, the team that opened the door to integration with Jackie Robinson.
Roger Angell seemed fixated on the change element in baseball, when reflecting on the '65 Series in his book "The Summer Game." I salute him for his honesty. He was definitely east coast-centric. Many writers might want to suppress or disguise such chauvinism. Angell wrote for the New Yorker. He had the recognizable spots of an intellectual whose environs were definitely in the metropolitan Northeast. His writing thus might grate on us some. But again, I respect his candor.
How direct was he? His chapter heading for the '65 Series was "West of the Bronx." He cited the teams as "runaway orphans." The Dodgers made their move west in 1958. The Senators were transformed to our Twins in 1961.
There were 20 major league teams through most of the 1960s. Angell noted that half came into being or "pulled up stakes" (moved) since 1953. So he admitted that the Twins and Dodgers were really pretty typical. They had fan followings with less than ten years' loyalty. Not that this was a hindrance to overflowing enthusiasm. My, how Minnesota was captivated in that '65 summer.
Perhaps Angell's writing and his orientation should strike us as quaint now. In this age of the Internet, those who feel literature and culture have a natural home in the population centers (primarily the East of course) are on the defensive. We are all empowered.
Angell wrote about "the ghost of the Yankees" being perceptible in that '65 fall. Oh, the Yankees. They were once on quite the pedestal for the leading sports media. Players who were suited for obscurity and who would have normal, unremarkable careers elsewhere, could get a mystique playing for the Yankees. The establishment writers sought out every angle. For a primer on this I suggest the Billy Crystal movie "61*" (yes, with the asterisk).
Angell talked about the ghost of the Yankees and added "you could almost hear the distant rattle of IRT trains above center field." The throngs of Minnesota fans who turned out in '65 couldn't have cared less about IRT trains. (I'm not sure what "IRT" stands for.) We heard an occasional jet plane going overhead. No doubt we were in a metropolitan setting, or near one. Let's emphasize "near." Metropolitan Stadium was literally built on farmland in suburban Bloomington.
Angell talked about the "monstrous crash" of the New York Yankees in 1965. And there to take advantage were our Minnesota Twins. Our Twins were a humble sixth in the standings a year before. And the makeup of the team really didn't seem different for '65. Our power reputation was well established. Thrilling as this could be, it didn't propel us very far in the '64 season.
Manager Sam Mele saw a need to diversify. He brought in a new set of coaches. The team's personality was going to change. We still had "The Killer" and others who could hit the ball a long way. (The reference is to Harmon Killebrew of course.) But Mele was going to employ some nuances that might not be noticeable to fans. Let's look at the hit and run. Let's seek more stolen bases. Let's think of stretching singles. And in pitching, Johnny Sain came on the scene, a man portrayed as a coaching wizard in Jim Bouton's groundbreaking 1970 book "Ball Four." Sain made Jim Grant and Jim Kaat into personal projects. He gave them "homework" over the off-season, focusing on such things as spin ballistics.
Then we had shortstop Zoilo Versalles. A man for whom fame may not have been kind, the moody and seemingly shallow Cuban did have a heyday that had its peak in that '65 summer.
It was coach Billy Martin who made Versalles into a project. Martin wasn't yet a household word. He seemed healthier and less scrawny physically, which leads us to suspect alcohol hadn't taken a big toll on him yet. I'd call the late Martin the Hunter S. Thompson of baseball. He made a name for himself when he lived (relatively) clean and took care of himself, but is remembered for the oddball caricature he later became. Kids, please take note. These guys didn't become famous by living in the eccentric way that marked the closing stages of their careers. Get your sleep. Eat your peas. Forget booze and drugs, please.
Martin coaxed Versalles into being a more aggressive hitter. He groomed Versalles into being quick on the basepaths, and when fielding to get rid of the ball with lightning quickness. These attributes came through. Shortstop Versalles was the '65 American League MVP. He was known to "pop greenies" (pills). This might have shortened his career.
The only bad habit the press might reveal about players back then was drinking. We did consider drinking a vice. But we knew it was all around us. The "greatest generation" hardly crusaded against it. It was a vice with its charms. Finally Mothers Against Drunk Driving came along to change that, to make it very serious business. No more chuckles for Foster Brooks ("the lovable lush").
Mele found it unnecessary to assign any special coaching to a young, most phenomenal hitter, like Versalles from Cuba. My, what a pure and thrilling hitter Tony Oliva was. He won the A.L. batting title in 1965 like he had as a rookie in '64.
The L.A. Dodgers like the Twins finished in sixth place in '64. In '65 they prevailed despite a deficiency in hitting: an anemic team average of .245. In May they lost their best hitter, Tommy Davis, to injury: a broken ankle. Author Bouton would be a teammate of Davis with the Seattle Pilots in 1969. Davis always had a reputation as a natural hitter. He seemed dogged by injury after 1965. Thus he was available in the expansion team scrap-heap of talent for '69 and the new Seattle Pilots, a team that would last just one year before "pulling up stakes" and moving to Milwaukee.
Davis at his best could hit like Oliva. He was right-handed while Oliva was left. Without Davis the Dodgers found themselves in a much closer pennant race than the Twins. Angell called the N.L. "junglelike" with its competitiveness. The San Francisco Giants gave the Dodgers a real run. The Giants with Willie Mays having his best season (52 home runs in the pre-steroids era) won 14 straight games at one point.
The Dodgers' stock in trade was pitching. Sandy Koufax could seem other-worldly with his talents. Don Drysdale was a dogged competitor. Koufax beat the Braves 3-1 to clinch the pennant on the last Saturday of the season.
The Twins never put their fans through any real suspense. No game or series ever stood out as a "must win." We won the pennant by a margin of seven games. So it was a summer for us joy-filled Twins fans to just kick back and enjoy this marvelous entertainment. And to think that just ten years earlier, our prime baseball facility was Nicollet Park which was constructed in the 19th Century!
Did us boomers really know how good we had it? I'm not sure we did. We had a reputation for being spoiled, us boomers. In the 1950s there were no Twins or Vikings. Can you imagine that? Were they really "Happy Days?"
Twins fever was established instantly in 1961. We weren't like an expansion team (e.g. Seattle Pilots) that had to pay dues and lose. Truly our Twins hit the ground running. It just reached a climax in 1965.
Minnesota brimmed with unfettered pride for the '65 Series - hardly a drip of cynicism anywhere. Hubert Humphrey threw out the first ball at the Met. He was a Minnesotan and our vice president. If only our nation's morale hadn't been dragged down in subsequent years by the Viet Nam War. It seems that in 1965 we weren't overcome by all that unpleasantness yet. We were on the cusp. The civil rights battles were sobering too but that represented a job to be done. The Viet Nam War was nothing but bad.
Manager Mele was like a father figure to Minnesota boomers of the time. Later Bud Grant would have that role. They were mature, stable leaders. Mele's managerial opponent in the Series was Walter Alston who had the same image.
The Met was a marvelous showcase for Minnesota when that World Series of '65 opened, on an early October day with the temperature at 64 degrees. A west wind blew at 14 miles an hour. Writer Joe Soucheray would later recall how that effete eastern writer Angell portrayed that Series here as projecting "the quaint rural charm of this Midwestern outpost." And, that "fans leaving the ballpark after the opening game created a happy scene like a family wedding."
The characterization is accurate. But there's a bothersome condescension too. Were we "charming" in a manner like innocent hayseeds? Well, we needn't all follow the model of New York City rudeness, one might suggest.
We won the opener 8-2. "Mudcat" Grant pitched the whole way. We rallied for six runs in the third inning. Drysdale looked very mortal. Koufax couldn't pitch that day because it was a Jewish holiday. Rain fell that night. So the next morning, helicopters were deployed to dry the grass. A drizzly atmosphere prevailed at game time. I hope Angell wasn't inconvenienced by the temperature of 56 degrees. Yes it was October. The Metrodome would later remedy these issues, although eventually we sought the outdoors again.
There was a northwest wind of 17 MPH for game 2. Nearly 50,000 fans turned out. Again the Twins won. Jim Kaat turned in a complete game pitching performance just like Grant. Bob Allison made a stupendous catch.
Twins fans can easily forget games 3 through 5, played in L.A. and won by the Dodgers, as Twins' hitting turned anemic.
Finally on October 13 the Series with all its splendor came back to the Met. The temperature: 54 degrees. "Mudcat" pitched another complete game and even hit a three-run home run! What a marvelous afternoon it was for the 49,578 fans in attendance, as the "Twinkies" won 5-1.
The game 7 attendance crept over 50,000. Sandy Koufax took the mound for L.A. with the thermometer showing 60 degrees. We shouldn't have been surprised Koufax was at the top of his game. The legendary lefty shut out the Twins 2-0. He struck out ten. Lou Johnson famously hit a home run that glanced off the foul pole in left. It seemed Koufax would need only one run. He got two. The Twins' magical season was finally over amidst a bittersweet air.
The Twins would go on to have considerable success through the rest of the '60s, though the pennant would elude them. We got Dean Chance at his best. We got Billy Martin as manager in 1969, the first season of the divisional alignment of the leagues. Then we got Martin's firing which strangely turned off so many Twins fans. Rumors abounded about Martin's firing. The best guess now is that he was fired for his strategy with pitchers in the '69 playoffs vs. Baltimore. Whatever, the Twins won the Western Division in '69 and '70, losing both times to the Orioles. The '65 Series receded in time.
In '87 and '91 we finally won it all playing under that roof in Minneapolis. We were ecstatic about both those teams and the new cast of stars. But I almost had to shed a tear remembering those fantastic Twins of 1965 and how they came so close to reaching the summit. I was a fifth grader in Pearl Hanse's class at East Elementary, Morris, for that fall.
What special times and memories. Let's ponder an alternate history: Minnesota winning game 7!