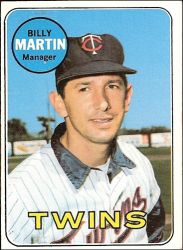 Twins: the year of Billy
The Minnesota Twins made the divisional playoffs in 1969. It was the first season of the divisional playoffs. It was about time. A ten-team league in which only one team advances offers too little hope for the second-tier teams.
Each league expanded to 12 teams for the '69 season. Our Twins were a dominant team in the A.L. Western Division. It was the year we had Billy Martin as manager. Minnesota fans formed an odd bond with the firebrand Martin. I never thought he was worth the trouble. In the '70s his eccentricities grew while his managing acumen showed some tarnish. In '69 he was at the helm of a Twins team that had the established names of the 1960s: the likes of Killebrew, Oliva etc.
Twins fans were not as excited as you might think. Really, there was nothing like the homer hanky-waving mania that swept us in the late 1980s.
It was nothing new for the Twins to win. We had won the pennant in 1965 and nearly won it in '67. The 1968 season was aberrational for baseball because pitchers took over. I'm mystified why the powers that be permitted that. There are ways to control this, just as how the Federal Reserve controls the economy (to a certain extent). Mainly this is through the strike zone. Compress it and you force pitchers to hit that narrow spot which can restrict what they can do.
We saw soccer-like scores in 1968. The powers that be lowered the pitching mound for '69. This was deemed a step to help hitters. Hitting indeed picked up. Tony Oliva hit with abandon. Harmon Killebrew had his best season in 1969.
But Minnesota as a state was not transfixed as it would be in 1987 through 1991. I can even recall a sense of defeatism, like we knew there'd be a good chance we'd lose to the Baltimore Orioles in both '69 and '70. We did indeed lose and we lost by sweep. The Orioles had Frank Robinson and Boog Powell.
Baseball players were still very restricted in their freedom and ability to negotiate better contract packages. Baseball owners were sportsmen who believed to a certain extent in the purity of the sport. Oh yes, they were businessmen who understood the bottom line, but they didn't do a cost-benefit analysis on everything. If they had, night baseball would have begun sooner for the post-season. (We'd eventually get Bowie Kuhn and his long underwear - remember? - so as to make fans think he was comfortable wearing just a suit and tie on a chilly fall night.)
There was a time we assumed World Series games would be played in daytime. You might be distracted at school wondering how the game was going. I don't recall being excused from class to watch a World Series game, but I do recall such an accommodation for the state high school basketball tournament. In those days it wasn't necessary to say "boys basketball." It was "basketball" and it was one class.
We romanticize those days today. Thus we're attracted to the movie "Hoosiers." (Gene Hackman didn't actually get the girl, did he?)
Our answer to the fictional "Hickory" was Edgerton, a tiny burg that was a giant killer. In reality the one-class tourney was of course very unfair. But we had eyes glued to TV screens as each year's tourney was televised from Williams Arena at the U of M.
Our Morris High School team made state in the one-class system in 1955. We then lost rather badly to a metro team in state. The loss shouldn't take any luster from what that team did. Envision that team playing in the old elementary auditorium which still stands but has been abandoned for some time, crumbling as years pass. It wasn't called the elementary auditorium in 1955. Morris High School had its home in that place. Will it be mercifully razed this coming summer?
In 1969 this nation was feeling the stress of tumult caused largely by the Viet Nam War. Boys had to grow up fearing the draft. The generation gap was a very real phenomenon. The civil rights movement had to push past stubborn obstacles.
The Twins and Billy Martin found their place amidst all that was going on. Metropolitan Stadium was still a grand structure. (A large beer was "dollar size.")
The Mets: Koosman rears back
Franklin Roosevelt once proclaimed baseball had to go on. This was said amidst the strife of World War II. It reflected wisdom. Baseball persevered as a diversion through wars, Viet Nam included. And in 1969 we not only had the winning Twins commanding our attention, we had the fascinating New York Mets.
I have read baseball described as an exception to the generation gap. Whatever rifts grew between generations, whether it had to do with politics, personal attire, musical tastes or whatever (OK, drugs), baseball was a tie that could bind. And in 1969 we were mesmerized by the Mets.
Once the Twins lost, we here in West Central Minnesota could focus on the Mets and their light blue theme color, because in their ranks was "one of ours." Jerry Koosman was a graduate of the West Central School of Agriculture. The school was the predecessor to UMM. It served agriculture interests in a bygone time, when "farm kids" had to compress their schooling into fewer months of the year than non-farm kids. Farm labor would tie them up.
Koosman was the big lefthanded starting pitcher for the New York Mets, No. 2 behind Tom Seaver. Seaver always wore the mantle of celebrity better than Koosman. Koosman didn't seem to seek celebrity at all. He would later be quoted saying he "just wanted to win." Spoken like a true sports gladiator.
The Mets were a darling team because just a few years earlier, they struggled badly. They were an expansion team in 1962. New York City had lost the Dodgers and Giants, and finally got the National League back again. But the Mets were a truly floundering group at the start, going a pathetic 40-120 in 1962. This isn't to say all their players were bad. They had some who might do well in a particular statistical department. But they absolutely could not jell into a consistently competitive product.
Such teams typically have a mixture of players on the way down and kids not quite ready. Don Mincher said this about the 1969 Seattle Pilots, another first-year expansion team. The Mets languished for a long time, never placing higher than ninth in the ten-team league over their first seven seasons.
Koosman was integral in helping the Mets escape their futility. They weren't sizzling at the start of '69, in fact going 18-23 out of the starting gate. For most of the season they trailed the Chicago Cubs in the National League East. Chicagoans talked about "the year of the Cubs."
The Cubs were managed by the crusty old Leo Durocher, clearly a representative of baseball from another era. Durocher couldn't keep the momentum going for Chicago. This in spite of the fact his Cubs enjoyed a rather gaping lead as late as mid-August. Koosman's Mets were in third place, trailing by 9 1/2 games.
Maybe there was divine intervention. George Burns as God said to John Denver on the big screen: "The last miracle I performed was the 1969 Mets."
Whatever force intervened - let's call it destiny or talent - the Mets under Gil Hodges won 39 of their last 50 games! Hardly anyone remembers that the Atlanta Braves won the N.L. West that season. We were transfixed by the Mets. Koosman had a 17-9 won-lost record with a 2.28 ERA and 180 strikeouts. He won eight of his last nine decisions. He did get beat up a little by Atlanta (with Hank Aaron and Orlando Cepeda) in game #2 of the divisional playoffs. Of course no one remembers that. Hey, New York won that game! The Mets went on to win that series and then beat Baltimore in the World Series.
Koosman was the pitching star of the 1969 Series. He was inducted into the Mets Hall of Fame in 1989. He attended the 40th anniversary reunion of the '69 team at Citi Field on August 22, 2009.
We may have loved "the amazin' Mets" of the Casey Stengel era. But we loved the '69 Mets more. All that excitement helped take our minds off the more unpleasant things going on in our country at that time. Indeed, baseball survived wars. Its biggest threat came from the strike of 1994. I have never viewed baseball the same since '94.
But I'll always cherish those memories of an earlier time when baseball, despite its imperfections and unfairness, gave a glorious backdrop for each summer us boomers were growing up.