(Image from "When it was a Game")
Frank Robinson and
Vada
Pinson
were the players I associated with the Cincinnati Reds when I first became a fan of baseball. There was a pitcher named Jim
Maloney
. Chico Ruiz had a famous steal of home that according to legend precipitated the famous
Phillies
choke of 1964. A book was inspired by that.
Had I been born ten years earlier, I most surely would have become interested in the Cincinnati ballplayer named Ted
Kluszewski
. Yes, the last name is rather a challenge to spell. He deserves to be remembered better than he is. Maybe the confounding spelling of his last name was an impediment. We learn that he was the first player to appear in a game with his name misspelled! He had a backwards "z" and an "x" instead of the second "k". Some mischief, maybe.
I was marginally aware of this slugger named
Kluszewski
until doing some research. I had been aware of him because of one trait. That trait was based on his appearance. I remember seeing photos of the guy with bare arms. Considering his specialty as a long-ball guy, he must have had appreciable muscles. Oh yes he did. So he came off in those photos as rather like a professional wrestler.
What was behind that? Turns out the motivation was not cosmetic. Soon after he joined the Reds in 1947, he cut off the sleeves of his uniform, an act not exactly approved by the front office. He did this because he felt the tight sleeves constricted his large biceps and shoulders and interfered with his swing. "
Klu's
" reputation as rather a "he-man" grew.
Leo Durocher was asked to name five of the strongest players in baseball. He complied but neglected to cite "Big
Klu
." When informed of this, Leo said "
Kluszewski
? I'm talking about human beings."
An N.L. standout in the '50s
Mention of Big
Klu
prompts nostalgia about the 1950s. He became quite the symbol. He was named to the National League All-Star roster from 1953 through 1956. He was a career .298 batter with 279 home runs and 1,028 RBIs in 1,718 games. The mid-1950s saw
Kluszewski
produce home run totals of 40, 49, 47 and 35. Most
Killebrew
-like. His RBI harvest was a tremendous 141 in 1954.
He is distinguished from our
Killebrew
by his ability to hit for an impressive average. He hit over .300 seven times while wearing the red of Cincinnati. He was in the top ten in average in each of those mid-'50s years. Fielding? Big
Klu
led N.L. first basemen in fielding percentage five straight years: 1951-55.
So why isn't he in the Hall of fame? The bugaboo of injuries started taking a toll. Longevity is an important factor in Hall consideration, maybe too big a factor IMHO. I'm smarting over Tony
Oliva
not being in the Hall.
Oiiva
could have redeemed himself by doing better in post-season games.

Kluszewski
had his uniform number 18 retired by the Reds in 1998. He bounced around a little after leaving the Reds. He went to Pittsburgh. Then came a more significant chapter with the American League's Chicago White
Sox
when the
Sox
were impressing. The White
Sox
in fact won a rare pennant for them, in 1959. They faced the Los Angeles Dodgers who were in their still-new surroundings of L.A. (from Brooklyn). Game 1 of the Series saw
Kluszewski
hit two home runs and drive in five in an 11-0 win over the Dodgers. But the Dodgers won the Series.
Kluszewski
hit .391 with three home runs and ten RBIs in the Series.
Automobile mogul Jim Moran offered a free car to any White
Sox
player who hit a home run in that Series.
Kluszewski
got three original 1960 Ford Falcons!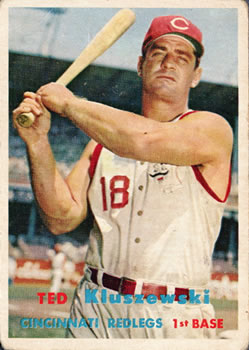 (SABR image)
Getting Angels going with a bang
The slugger wasn't yet through having impact. I was not aware until researching that he was no small part of the 1961 Los Angels Angels story - the first year of that A.L. franchise. I thought I was quite well-versed on that team - I have even written a song about it, inspired by player Albie Pearson: "Albie Pearson Got It Done." But I didn't know until recently that
Kluszewski
had a role worth noting. While his season-long productivity was not impactful, Big
Klu
was sensational in the season opener on April 11. The Angels were playing on the road at Baltimore's Memorial Stadium. He socked two home runs off Milt
Pappas
as the Angels won 7-2. He would finish the season with 15 home runs and 39 RBIs in 107 games.
He finally retired, having left a mark on the game that really seemed Hall of Fame-worthy. He went into coaching where his work was well-received. Heart problems caught up to him. He underwent emergency bypass surgery in 1986 and survived for two more years. He left us too soon at age 63. His famous 15-inch biceps survive on baseball card images, endearing him to us all. He is often cited as one of the most
underappreciated
players of the post-World War II era. You might say he was the original "Big Red Machine," the name that would be coined in the '70s: the Pete Rose/Joe Morgan era.
"
Klu
" is locked within the Eisenhower era in our memories. He was part of the great wave of post-WWII players, celebrating normalcy in world affairs. The boys were back! The war was a factor in
Kluszewski
choosing baseball over football. The Reds did their springtime training in Indiana because big league teams were forbidden to train in the South.
Klu
was in the neighborhood and he was invited to take some swings at batting
practice
. Remember the scene where "Roy Hobbs" got his first chance to impress in the movie "The Natural?" Remember how the fictional Hobbs launched rockets into the deep outfield seats? This is exactly what happened when
Kuszewski
got his chance. Observers were wide-eyed just like Wilford
Brimley
. Balls sailed over an embankment nearly 400 feet away.
Klu
was offered a $15,000 contract, a lot of money then, and he accepted.
Bring on the bare arms
Once getting established in Cincinnati,
Klu
opted for his "fashion statement" that would become famous, with the cut-off sleeves. This is the image that got my attention and prompted some song lyrics I recently penned about the big guy. Will I have the song recorded? I'm not sure. I have written much poetry and lyrics in a topical vein. We'll see.
My song is called "Ted
Kluszewski
Arms." The song structure is
AABAABA
with "B" standing for bridge, for you neophytes. I'm pleased to share the lyrics here:
by Brian Williams

I could lift an anvil
I could do it at will
With Ted
Kluszewski
arms
He could hit the baseball
Oh so very far
Must have been those Ted
Kluszewski
arms
There in Cincinnati
Playing with the Reds
Swinging for the fences
He could knock 'em dead
He had bulging biceps
So to get his edge
Ted
Kluszewski
kept his team ahead
BRIDGE:
He was on the charge
In his sleeveless shirt
We can still remember his worth

Such determination
Always swinging hard
Skin was in the foreground
On his baseball card
Still he was a star
Just consider Ted
Kluszewski's
arms
He was in the limelight
Long before Pete Rose
Long before Joe Morgan
Helped to run that show
In the days when players
Didn't make much dough
Ted
Kluszewski
made his roster glow
(repeat bridge)

I could make a million
I could eat my spinach
Did he get his body
Working on a farm?
We felt awe at Ted
Kluszewski
arms
We'd go far with Ted
Kluszewski
arms
©
2016 Brian R. Williams