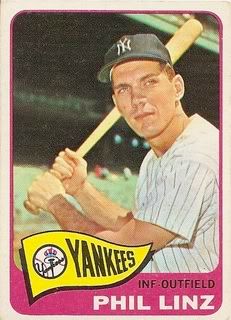 Utility players can be underestimated. There is much to be said for having versatility among the various baseball positions. Denny Hocking of our Twins was once injured in a post-game celebration and missed the rest of the post-season. I was aghast at this. I sensed most other fans just gave a collective shrug. We lost our next series, to the Angels as I recall.
Meet Phil Linz, circa 1964
The New York Yankees had an interesting utility player in the early 1960s. He entered immortality, sort of, as the result of an off-field incident. These were the New York Yankees at the peak of the newspaper era, when the multiple papers of the Big Apple scratched and clawed for stories. This was why Roger Maris' life was made into such a hell as he chased Babe Ruth's record.
Phil Linz became a household name, sort of, in the summer of 1964. I spent part of that summer in New York City, therefore I have some affinity with the Yankees of that time. My parents and I were in New York City for the World's Fair. My father's University of Minnesota-Morris men's chorus performed there. The World's Fair was in Queens, home of the National League New York Mets. Shea Stadium was so close to the fairgrounds, it appeared on fair maps. Our hotel was in Manhattan and we could see the Empire State Building from our window.
It was the summer that brought to a close the Yankees dynasty of that time. And it wasn't easy for the Bronx crew to capture that pennant. The Yankees had aging stars who were not getting readily replaced. But hang on they did. In the hot August of '64 it was far from certain that the Yanks would succeed.
The date was August 20. The team was on their bus en route to O'Hare International Airport, Chicago.The situation seemed grim: the Yanks had been swept in a four-game series by the Chicago White Sox. The older generation of baseball players at that time felt that losing should be accompanied by a grim, panic-stricken disposition. Violating that would be sacrilege. A younger generation was coming up that believed in a more even keel: no crestfallen air. In other words, just try to stay loose and re-focus. A little levity doesn't hurt. Nor does a little music.
Linz and his instrument of choice
Music! We're focusing on a quintessential utility player here. I was nine years old at the time. The player's name will never leave my consciousness. It was Phil Linz. His musical instrument: the harmonica!
Linz was to the harmonica what Chuck Mangione was to the flugelhorn. The harmonica is an instrument that deserves a little more attention. Its compactness is a prime attribute. It produces delightful sounds. But would it come across as delightful on the team bus on that August day of 1964? The bus rumbled toward O'Hare with Linz having decided to ply his harmonica skill, albeit limited.
Linz was a bit resentful at not having played more in the disastrous Chicago series. I'll insert here that Chicago had a strongly contending team and could have wrested the pennant easily. They had in their ranks Bill "Moose" Skowron, the former Yankee first baseman in good standing, still in his prime. Skowron's home field was the non-hitter-friendly Comiskey Park. Skowron was a Yankee when Maris hit his 61 home runs in 1961.
The Yankee skipper in 1964 was Yogi Berra. The man needs no introduction. I guess Berra felt the atmosphere in the team bus ought to be like at a wake. Maybe Berra was thinking about a peculiar jinx: the Yankees had never won the pennant in a year ending with the number '4.' They had won four straight pennants. No one was rolling over for them in '64.
Our Minnesota Twins had a strange summer: we tied for sixth even though our roster was fundamentally the same as when we won the pennant the following year. Baseball can be tough for analysis. Apparently all we did different in '65 was run a little more. Oh, and Johnny Sain used his coaching genius with the pitchers. Jim Bouton of the 1964 Yankees worshiped Johnny Sain. Bouton was surely the leader of the younger generation that stayed a little more loose, maybe even irreverent, when losing.
Mickey Mantle: a man of mischief here
Berra saw Linz's harmonica playing rather as sacrilege. Mickey Mantle could have hosed down this ridiculous little confrontation. Linz initially had trouble hearing Berra's reprimand, legend has it. Linz appealed to Mantle for help discerning what Berra said. The legend continues with Mantle claiming that Berra wanted Linz to play louder. Mantle was never the totally serious team leader. Certainly his lifestyle set no example.
I remember Jim Bouton recalling the whole incident in his groundbreaking book of the time: "Ball Four." Bouton recalled that Linz didn't believe Mantle. At the same time, the utility player did not stop playing his little instrument. The Yankees were four and a half games out of first place. Berra was in his first year as manager. He had been tapped as Yankees manager so the Yanks could have their own "character" in the post to match their crosstown rival, the New York Mets with Casey Stengel. Stengel had been removed as Yankee skipper because he was too old. Ralph Houk, very capable, was considered too boring.
Let's remember that Stengel's job literally was to provide entertainment while his Mets were "lovable losers." Berra by contrast was expected to win the pennant, albeit with an aging and challenged team. The Yankees predictably did not have a rosy path. Berra came under pressure. Several players had issues with Berra and complained to Houk who was now general manager.
Houk wasn't quick to get into Berra's corner. After the final loss in that four-game sweep suffered at the hands of Chicago, the Yankee bus got stuck in a big traffic jam. Linz had recently acquired his harmonica. It came with a little booklet, of course, and in it were some simple songs for starting out, such as "Mary Had a Little Lamb." Linz decided to pull out his harmonica and "toot away."
Berra was simmering in the front seat. The press reported him saying to Linz "put that thing in your pocket." Team members had a slightly different version, with Berra suggesting that Linz put the harmonica someplace else. Mantle then made his historic quip about how Berra wanted to hear the music louder. Bouton wrote that "Linz didn't believe that, but he didn't stop playing either." Linz would later say he didn't realize that Yogi was so upset.
Berra left his seat and stormed back. "I'd never seem him that mad before," Linz said. The legend continues: Linz tossed the harmonica to Berra but Berra slapped it aside. It struck Joe Pepitone in the knee. Bouton wrote that Pepitone, a character, went into his act called "Ooooh, you hurt my little knee!" Pepitone actually fell to the floor in mock agony, shouting "corpsman, corpsman."
What a goofy group. These guys were seared into the consciousness of young boomer-age fans like yours truly and Billy Crystal. Berra stood over Linz and raised his arm. Linz feared he was about to be struck. Berra backed off and stomped back to the front. But the incident wasn't done, as Linz stood up and shouted about how he wasn't deserving of such stern discipline, as he felt he was giving 100 percent. The implication was that maybe some other Yankees were not.
The boys in the back of the bus thought this whole episode was hysterical. The irreverent Mantle suggested Linz could be third base coach and give signals on the harmonica. Coach Frank Crosetti reflected the older generation, exuding no humor at all.
It should be noted that media behavior was in flux, that silly and unbecoming incidents like this were not likely to be withheld from public knowledge anymore, not like in the old days when a drunk pitcher Ryne Duren fought with coach Ralph Houk on a train in 1958. That incident hardly saw the light of day.
Bouton rolled up his sleeves to write about incidents and peccadilloes like that. The old writers like Jim Ogle were a quickly-fading breed.
Linz and Berra dominated NYC sports sections for several days, which meant of course that the whole city became aware of this quite trivial episode. Sales of harmonicas obviously spiked. Linz got a $5000 endorsement contract from Hohner Harmonica. Houk for his part was amused by the incident. Top Yankee brass hired Berra in the first place to adjust the team's "haughty" image. Gone was the old school general manager George Weiss. A new era had set in.
Linz was fined $200 but it was no matter considering his contract with Hohner. Pepitone joked that Linz should have brought a piano on the bus - Linz could have made more money!
Think of some "winning" music!
It's more than a footnote that the Yankees began playing better right after the incident. In the five and a half weeks of the regular season that remained, they shot past the Orioles and White Sox. They won eleven straight games at one point. Hear in your head the upbeat music from the movie "The Natural."
The Yankees won the American League pennant. All because of "Mary Had a Little Lamb?" What a story. Had the clash brought the Yankees closer together? Actually, pitcher Mel Stottlemyre came on the scene in August. Reliever Pedro Ramos put on the pinstripes in September. Mantle came off the injured list. It was much more fun suggesting that Linz and his harmonica gave the boost!
The Yankees stretched out the World Series to seven games vs. St. Louis, but New York came up shy. Amazingly, Berra was fired after his one year. By 1966 the Yankees had fallen all the way to last place in the ten-team American League. Our Twins won the pennant in '65 of course.
Linz improved his harmonica technique over the years. My family was in New York City in 1964 because of music: the wonderful sounds of our UMM men's chorus. How ironic that music was the unlikely element helping make the 1964 New York Yankees so memorable. The harmonica deserved its newfound attention.

Addendum: I have personal memories of O'Hare Airport. It was 1972 and I was en route back to Minnesota, trying to use a "student standby" ticket which I discovered wasn't worth the paper it was printed on. So my parents wired me some money so I could buy a ticket upgrade. Had the situation not been remedied, I could have ended up as a skeleton in a chair there. There was a group of about five of us that were instructed to catch a shuttle bus to Midway Airport. One was a military man in full uniform, a nice guy just as anxious to keep traveling as I was. I remember that the driver of the shuttle bus was a trainee, getting side-by-side instruction from a supervisor. Finally we all ended up where we needed to go! I hope that military guy has had a nice life.

- Brian Williams - morris mn Minnesota - bwilly73@yahoo.com