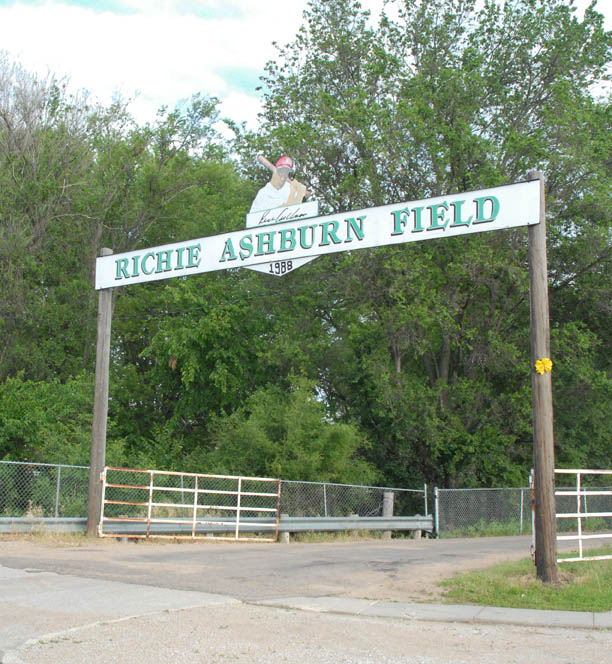 Richie Ashburn Field in Tilden, Nebraska
I have never paid much attention to baseball in the 1950s. I hear names like Bobby Avila and Al Rosen and I don't even know what these guys look like.
Richie Ashburn was at the end of his career when I first started paying attention to baseball. This is a name firmly established within the 1950s. However, he did have a little gas left in the tank as he moved into the '60s. The brand new New York Mets were very fortunate to latch onto this fellow for their inaugural season. It would be Richie's last season. His skills could still be very sharp. We readily learn this when looking at his .306 batting average.
It's true, as Bill James has hammered home for years, that batting average is but one thing to look at. Historically it has been overrated, through the years when it was the first stat you'd consult when evaluating a player. But a .306 batter definitely provided value. The New York Mets lacked value in 1962. They were led by the corny manager Casey Stengel. I guess Stengel had been judged too old to stay with the Yankees.
Stengel led a ragtag group of original New York Mets. The team represented the return to New York City of the National League. They played at the Polo Grounds, previously home to the New York Giants. It was a temporary, stop-gap home, as new digs were being constructed: Shea Stadium.
I eventually read that Richie Ashburn had been a member of the "Whiz Kids" Philadelphia Phillies. That was way back in 1950! A decade came and went before Richie would pull on that light blue Mets cap. He must have had an interesting background. He played center field. He had a background that seemed out of a movie: a farm boy from a small Midwestern town. That town was Tilden, Nebraska. I got out my road atlas, dated 1997, and saw that Tilden was a town of 895 population located on Highway 275 west of Norfolk. It's in between Oakdale and Meadow Grove. Quite the far cry from Queens. A pleasant far cry.
One of Richie's nicknames was "The Tilden Flash." He never lost that Midwestern connection. He lived in his hometown of Tilden in the offseason during his playing career. He officiated high school basketball games throughout Nebraska, staying in prime physical shape in the process. His light-blond hair inspired another nickname: "Whitey." He was one of those famous "Whiz Kids" of the N.L. champion Phillies in 1950.
He was the Phillies' center fielder in 12 of his 15 major league seasons: 1948 through 1959. Let's present Richie as an exhibit for 1950s nostalgia, up there with the movie "Angels in the Outfield."
If you are one of those fans who still puts emphasis on batting average, you'll be impressed by Richie's career .308 mark. He didn't hit for power but he had other strengths. He routinely led the N.L. in fielding percentage.
Looking at his career stats, I wouldn't consider him a slam dunk for the Hall of Fame. He was a singles hitter who sprayed the ball to all fields. He was shy of 3000 hits for his career, the type of marker that would have gotten him into the Hall routinely. He did have the most hits of any batter in the 1950s: 1,875. He made a spectacular catch in the 1951 All-Star game in Detroit. He had eight hits, all singles, in a doubleheader in 1951.
Ashburn was in focus for one of the odder baseball stories of all time. The date was August 17, 1957. Ashburn hit a foul ball into the stands that struck Alice Roth, wife of a Philadelphia sports editor. Alice had her hose broken. She was being carried away on a stretcher when Ashburn hit another foul ball that struck Roth! Happily, the two built a friendship in the wake of this stranger-than-fiction episode.
Richie had the misfortune of playing for poor teams toward the end of his career. The Phillies lost steam. He went from the eighth place Phillies to the seventh place Cubs and then those tenth place Mets. The Mets lost 120 games. The last loss saw Ashburn get retired as part of a triple play executed by the ninth place Cubs.
Ashburn's playing career all by itself might not have gotten him in the Hall of Fame. Like our Bert Blyleven, he kept contributing to the game as a radio and TV color commentator. He served the team for which he gained his chief fame: those Philadelphia Phillies. He planned on making a complete retirement after the end of the 1997 season. A heart attack cut him down after he broadcast a Phillies-Mets game at Shea Stadium.
Richie was elected to the Hall by the Veterans Committee in 1995. A long fan campaign had helped build his chances. Seems to me that if Ashburn can be in the Hall, so can our Tony Oliva. Life is often not fair.
Ashburn understood "the power of the press" (or media). When calling late innings, he'd occasionally ask if the staff of Celebre's Pizza might be listening. Presto, pizza would arrive at the radio booth within 20 minutes! The Phillies requested that "Whitey" quit doing this. Because he was allowed to extend birthday greetings on air, he once said "I'd like to send out a special birthday wish to the Celebre's twins: Plain and Pepperoni!"
I'm glad Ashburn extended his career through 1962 and was willing to be part of the futile but historic New York Mets campaign. He retired after sporting that .306 average with "The Amazin' Mets" under Casey Stengel. He is an iconic figure from baseball's mid-20th Century experience, when it still had many of its quaint older qualities but was on the threshold of much bigger things.
A farm boy from Nebraska who stayed true to his roots: Richie Ashburn, RIP.
- Brian Williams - morris mn Minnesota - bwilly73@yahoo.com