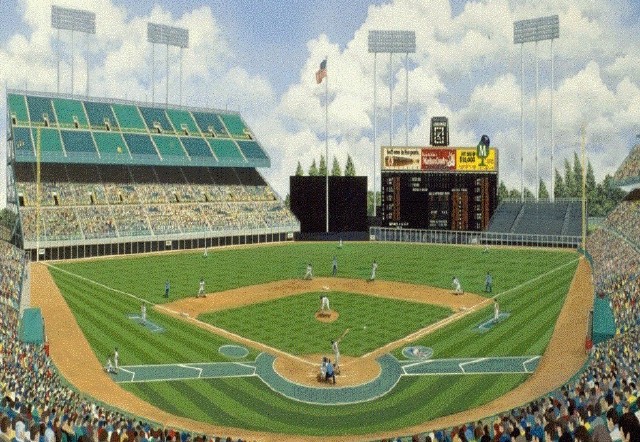 Metropolitan Stadium, Bloomington MN
Gerald Moore recalled his best memory of Metropolitan Stadium. Moore, who headed the Minneapolis Chamber of Commerce during the drive to build the Met, said "I guess it would have to be that pleasant setting." Moore gave these comments at the time we were anticipating the Dome's opening. He added: "I'm concerned about the move downtown. I think we're losing too much. . .of the flavor."
Met Stadium was truly hailed at the time of its opening. A major league baseball official proclaimed our Met was "as good as any stadium in baseball and better than most."
It's actually strange we had to wait until 1961 for "the bigs" to start here. Met Stadium opened in 1956. Our AAA minor league team, the Millers, played there. Surely the Met wasn't built for the Millers. Legend has it the Indians and Giants flirted with coming here. Had the Indians come, we would have had an established nucleus of stars to cheer for. Given the advantages of a brand new stadium, the owner could have augmented that group, perhaps well enough to win a pennant. Today we'd be reminiscing about Leon Wagner, Max Alvis and Sam McDowell. Instead we reminisce about "the Killer" (Harmon Killebrew), Camilo Pascual, Rich Rollins and others.
Had the Giants come? My, we'd have a giant statue of Willie Mays in the metro area. Maybe Orlando Cepeda or Juan Marichal too. Remember Marichal's "leg kick?" It was a diversion. I doubt it helped his pitching. Cepeda? Roger Angell observed that Cepeda wrapped his bat so far in back of his shoulder, it was surprising he could even hit a pitch. Most certainly he could hit a pitch.
"That pleasant setting"
"It was such a kick to see the place go up," Moore said of the Met's construction. "It was like making a million dollars and you know you've got the million, but you just don't have the money. We got a lot of compliments on the place over the years."
One of my top compliments would have to be "that pleasant setting." Yes we were on the fringes of the big, bad metro area. Nevertheless there was a pastoral air as we took our seats at the Met. The organist would play a gentle, traditional melody, perhaps "Jersey Bounce." Finally the voice of Bob Casey commanded our attention. The famous HBO video "When It Was a Game" included an old-timer commenting on the mesmerizing effect of that P.A. voice at the ballpark: "Like the voice of God."
Another comment was about the indescribable thrill, from the perspective of a child, seeing those big league players in the flesh, to simply realize they were real people. "I had heard about them, read about them, but there they were." Someone remembered arriving at the ballpark and seeing "Johnny Mize, big Johnny Mize, looking right at me from beside the dugout."
The Twins warmed up in front of me at Met Stadium. It was the mid-1960s. There he was: Rich Rollins! Nothing in West Central Minnesota could have thrilled me like this. Harmon Killebrew hit two home runs in the first game I ever attended. Al Worthington pitched the ninth. The Twins won. Our family had taken a bus from somewhere in downtown Minneapolis. On the way back, I remember fans humming around me, so enthused about the Twins and their performance. We remember staying at the old Drake Hotel way back when it was a real hotel, complete with a restaurant. I was disappointed years later to hear the place had become a homeless accommodation place.
I remember when we knew we were getting close to the Twin Cities when we saw those little billboards promoting the "Curtis" Hotel. And the Leamington? The Beatles stayed there. So gone with the wind. Just like Met Stadium, that stadium "as good as any, better than most" in major league baseball.
As it turned out, we in Minnesota fell into a pattern of building a stadium toward the end of each generation of sports stadiums - not a good deal. I think in Target Field we now have the ideal. But the Twins have not been competitive enough, not that I follow it a whole lot anymore. The strike of 1994 changed forever my orientation to big league baseball. The emotions were gone. Then the PED scandals came along and that was the final nail. I have nothing against big league baseball, really. It's fine if a substantial number of people still enjoy it. I've just moved on. I do have a dislike for pro football - it's a tragedy with all the head injuries.
As the days of the Met became numbered, Groundskeeper Dick Ericson said "I hate to see it go. It doesn't seem so long ago when it was built. I remember talking to the contractor when they were pouring cement, and I asked the contractor, a Mr. Drake - I can't remember his first name - I asked him how that cement would hold up. He said the cement would still be there in a hundred years. I guess not."
The apex year: 1965
The All-Star Game was played at the Met in 1965. Of course that was the year the stars all lined up and the Twins won the pennant. The stars didn't completely line up because we lost the World Series in seven games.
You would think the Twins could have won another pennant before the end of the decade. We came painfully close. Our talent suggested we could have won another flag. It was a tragic story as Calvin Griffith's Twins teased us but couldn't pull it off. Zoilo Versalles tanked. Doug Grow asked Griffith what happened with Zoilo. "Drugs," Calvin responded.
The Twins degenerated with internal politics and conflicts taking a toll. Us fans basically weren't aware at the time, though we know about the fistfight between Dave Boswell and Billy Martin. Bob Allison got caught up in that avoidable skirmish too. Coaches had conflicts. Johnny Sain reportedly wanted Sam Mele fired.
OK, what I'll offer as an assessment is that Griffith was of a generation that had trouble recognizing and solving such problems. Today we have "conflict resolution" techniques. Griffith just put certain people in certain positions and paid no mind. I've seen others of his generation be similarly clueless. Conflicts have to be avoided or else certain people just have to be shipped off.
Why didn't the Twins use Jim Perry more in the mid-1960s? Indeed that's a mystery.
Us young fans were left flummoxed by our Twins getting edged out for the pennant in '67, and losing the divisional playoffs to the Orioles in 1969 and '70. Games 1 and 2 in '69 were decided by one run, then we were blown out in game 3. Dave Boswell threw out his arm by being overworked. It could drive one to drink.
The '70s were anticlimactic. The Twins no longer had the wizardry for attracting top talent. Rick Sofield? Glenn Adams? Gene Mauch seemed to put together teams with guys who could hit for a good average but do little else. He platooned so much, it made me sick. Kirby Puckett might have gotten platooned if Mauch were still around. All it would take was one 0-for-4 game against a right-handed pitcher. Lyman Bostock once publicly complained about being sat down by Mauch against a left-handed pitcher one day. Bostock would be murdered when still a young man.
Today the Mall of America stands where we were once enthralled by the Minnesota Twins. We had the Metrodome for a number of years, where the Twins won two world championships. But even the Dome is gone now. The only constant appears to be change.
But I'll never forget "that pleasant setting" and calming organ music of the old "Met." If I go to heaven, maybe God can allow me to re-live a few days there.
- Brian Williams - morris mn Minnesota - bwilly73@yahoo.com