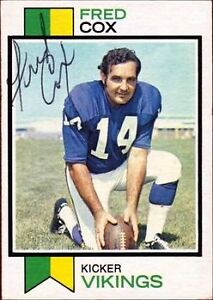 Minnesota Vikings football was magic in the 1970s. We hardly gave a thought to the catastrophic health consequences of the pro game.
We certainly knew about such things as knee injuries. We read about the Oakland Raiders center who had a laundry list of problems like that. We thought it was a little cute: all those bumps, bruises and tired joints that resulted from the commitment to this "man's game." We heard hardly a thing about brain problems. So today, I'm not inclined to write anything that bestows special thoughts about (contemporary) football.
What happened in the 1970s is shelved away in archives and fondly in our memories. We can't wipe it away. Also, players were not as big and fast, not like the virtual missiles they seem today.
The pro game is desperately trying to protect players now, because the horror stories could catch up to this golden goose. Where money is concerned, no one involved in pro football is going to care if it continues being a "man's game" (i.e. macho). They are learning how to welcome gay players. The gestures likely fall short, leaving NFL owners essentially whistling through the graveyard.
And yet we in Minnesota have committed ourselves to a spectacular stadium, a gesture to opulence and a salute to our unapologetic materialism.
Vikes captivated at "the Met"
The number of people who can remember attending Vikings games at Met Stadium can only dwindle. Metropolitan Stadium was that grand "castle" on the Bloomington prairie. There was never any doubt it was built for the Twins, not the Vikings. But by the time of the 1970s, the Vikings were clearly the more fashionable team.
The people in the Vikings braintrust had to wink at each other as they realized how boundlessly popular this attraction was. The boomers reveled in the fun. We had a grand winning team - the "purple people eaters" - but with one huge asterisk. Perhaps there was poetic justice in this asterisk, as we in Minnesota have always been a little defensive or defeatist about our weather challenges. We weren't ever destined to have a pro football team "win it all."
The Vikings teased us and excited us with their winning exploits up to a point. In four different seasons, we reached the apex known as the Super Bowl. We'd have two weeks prior to the big game to soak in all that excitement. But let's be honest: Did we ever feel supremely confident we were going to win any of those games? Maybe the first one, the one with Joe Kapp as our quarterback, called for some of that optimism. I hadn't become a strong Vikings fan yet.
I was a full-fledged fan for the next three Super Bowls with the Vikes. I wanted to envision Fran Tarkenton leading the Minnesota team to victory and glory. We here in Minnesota could feel truly special. Radio personality Steve Cannon, RIP, used the term "frozen tundra." It was this imagery we tried to wipe out when we went ahead with the Metrodome.
The boomers of Minnesota ended up crestfallen four times, as Minnesota came up short in the most disappointing fashion. The Oakland Raiders in particular killed us.
Hank Stram used a quite politically incorrect phrase describing our defense, our disarray. Don Shula had matters quite under control vs. us. The Super Bowl versus Pittsburgh seemed closer than it really was. A fumble by Bill Brown on a kick return killed us vs. Pittsburgh and Chuck Noll.
Maybe the four losses didn't cause outright fatalism among us Minnesotans. But under the surface, scars were unmistakable. Wasn't the gloom kind of an undertone in the movie "Fargo?" The Twins blossomed in the late 1980s and finally rescued us from much of that. But was it enough?
Four Super Bowl losses represent considerable psychological adversity to try to overcome. For each Super Bowl there was a league or conference championship game that we won. I have suggested that it would be therapeutic having a DVD or tape put together with highlights of those four games, each ending with such a feeling of exhilaration among us all. But that's not our nature. We are attuned to seeking No. 1. It's in our DNA as Americans. We remember the Super Bowls.
We remember Hank Stram, Don Shula, Chuck Noll and John Madden beating us. And we're still able to revere our own Bud Grant, the stoic man who discouraged heat devices on the sidelines. Grant seemed the epitome of stability. He just couldn't coax that one Super Bowl win that would have put us at the mountaintop.
Most memorable game?
I recently wrote that a Harmon Killebrew home run just before the All-Star break, vs. the Yankees in 1965 may have been the most memorable Twins homer ever. It was in a regular season game.
My hallowed game with the Minnesota Vikings was in the regular season in 1977. This was going to be Fred Cox's last game at "the Met" as the kicker. That might have been the main story line going in, but not coming out, even though the venerated kicker (distinctive because he was straight-on and not soccer-style) kicked the PAT that gave Minnesota the 28-27 edge.
Our thoughts were with Fred. But the scintillating aspect of that December 4 game was the comeback ignited by our young quarterback Tommy Kramer, my age (high school class of '73). About a decade later, Tommy would come to Morris to be grand marshal in our Prairie Pioneer Days parade. He rode in a golf cart driven by Brett Weber.
Tommy called the signals on December 4, 1977, against the San Francisco 49ers. Over 40,000 fans were at "the Met" amidst cold and snow. The gray afternoon might have been depressing. But. . .
Kramer entered the game with 12 1/2 minutes left and threw three touchdown passes to bring victory. I remember watching that evening's WCCO Television news, and someone remarking that the stoic Grant appeared unchanged through all the dramatics. Mark Rosen then chirped: "Oh, I think his eyes were open a little wider." I laughed at that.
Fran Tarkenton was out of action with a broken leg. Bob Lee was ineffective with his play. Grant turned to the rookie, Kramer, who was out of Rice University, taken in the draft's first round. Kramer completed nine of 13 passes for 188 yards over that 12-minute span, and he tossed the winning touchdown pass to the fleet Sammy White with 1:38 left. I can still visualize it.
Cox trotted out and kicked the PAT for the 28-27 win.
Cox left football after establishing the NFL record for kicking field goals in 31 consecutive games and for scoring in 151 consecutive games. He made that final PAT on a day with weather contributing to our desolate "Fargo" image: 15 degrees, snowy and with swirling winds.
Cox recalled feeling pressure because he had to kick for the win. If only this scenario could have unfolded at the end of a Super Bowl game. Only in our dreams.
Today there is no sentiment to be called for in connection to football. Big-time football is so dangerous for the participants, it's unconscionable that we still support it. Do a Hail Mary.
- Brian Williams - morris mn Minnesota - bwilly73@yahoo.com