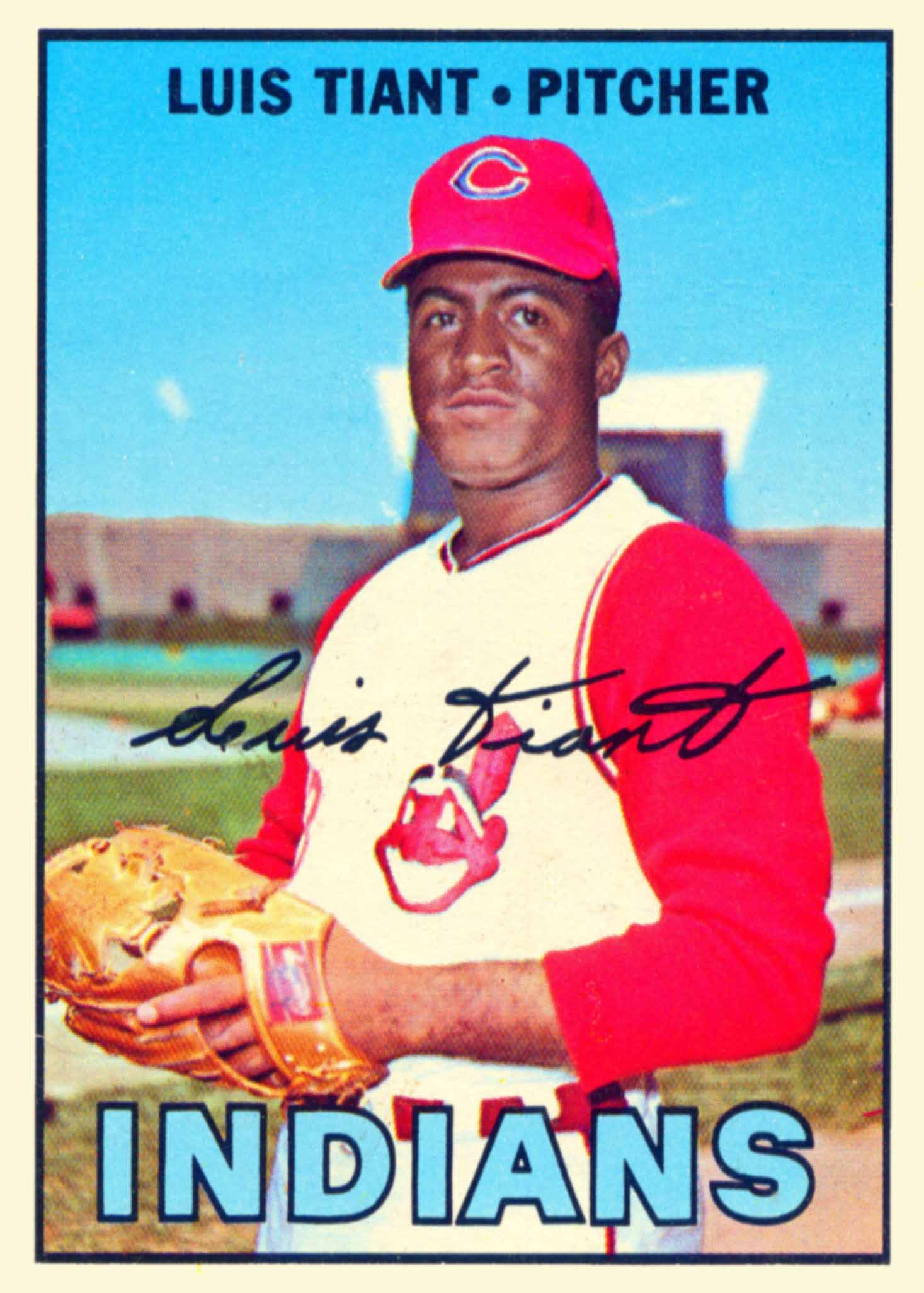 Luis Tiant allowed a .168 batting avg. in 1968.
The number of shutouts by MLB pitchers in 1968: 339, nearly double the 1962 total.
"My pitching philosophy is simple: Keep the ball away from the bat." - Satchel Paige
You might think Sandy Koufax adjusted his mechanics to become a great pitcher. He definitely turned the corner from being a more pedestrian pitcher. Was it a case of maturing and learning?
A book by the late David Halberstam once informed us that another big factor was in play. He wrote that the umpires started calling the high fastball a strike.
The powers-that-be in Major League Baseball adjust the balance between offense and defense by tinkering with the strike zone. Force a pitcher to "groove it in there," and greater offense results.
We all shed tears (of emotion) over the Billy Crystal movie "61*," but we should realize the aberrational offense of 1961 had consequences. Those noisy bats appeared to contribute to a strike zone alteration putting the pitcher in better shape. The consequences weren't seen overnight. But the pendulum was swinging the hurlers' way.
Roger Maris hit 61 home runs in 1961. Less famous but just as aberrational was Norm Cash's .361 batting average. Something was definitely up in that 1961 season. The theory has also been offered of corked bats (i.e. of umps looking the other way with regard to these).
The Minnesota Twins were in their first season in 1961. We weren't really knocking the cover off the ball in that season. We were still in sort of a hangover from our Washington D.C. years. Calvin Griffith's franchise came here for a reason in 1961 - to shake those blues. The New York Yankees continued their dynasty up through 1964. The dynasty may have officially ended when Harmon Killebrew hit a home run against them just before the all-star break in 1965.
You would think Maris with his 61 home runs in '61 would be in the Hall of Fame. But the rest of his career was just too lackluster. Some in fact clamor that he should be in the Hall anyway. He had a habit of getting into the World Series, with St. Louis (often forgotten) as well as New York. He had defensive prowess. It wouldn't bother me if he got in.
But in '61 ol' Rodg appeared to be taking advantage of an unusual climate in Major League Baseball.
The American League had grown from eight teams to ten. This prompts the obvious theory that pitching was "watered down." It has become a knee-jerk analysis but I don't buy it completely. It seems too simple. Is there that much of a drop-off from baseball's best pitchers? Enough for a guy to hit over 60 home runs, or for Mr. Cash to bat a stupefying .361?
Cash of Detroit was a pretty typical power type of hitter for most of his career, bearing no resemblance whatsoever to the likes of Rod Carew. The .361 average was Carew-like.

Change strike zone, see change happen
OK, what happened after that 1961 season was: The size of the strike zone was increased from the top of the batter's shoulders to the bottom of his knees.
Halberstam, whose book was simply called "1964," wrote that the high fastball was made a strike. But if it's high, how can it be a strike? Those poor batters. Pitchers like Koufax and St. Louis' Bob Gibson just mowed hitters down, pouring their "smoke" into that stretched strike zone. I suspect most fans were just mystified.
Maybe if you're the kind of fan who likes 1-0 soccer games, you liked what ensued through the 1960s. I suspect most fans didn't. The people who ran big league baseball had tweaked that delicate balance of power between offense and defense. I'm sure in their back-room meetings, they know how delicate it is. All of the ramifications weren't seen right away. In 1968 they were very much in view for everyone. It came to be called "the year of the pitcher."
It got so bad, I wonder why MLB didn't make adjustments before the season was over. Don Drysdale put together an incredible streak of innings in which he was unscored-upon. We are reminded of this in the movie "Bobby" about the assassination of RFK at the Ambassador Hotel in Los Angeles. A kitchen worker is excited over his tickets to a game in which Drysdale will throw.
Denny McLain won 31 games pitching for Detroit. That number is comparable to Marris' 61 in '61. but there was never any talk of an asterisk. (Apparently the asterisk stuff with Maris is just legend anyway.)
We later learned that McLain was one of those poor souls born with criminal proclivities. He couldn't shake that even though he could have made a very good living just being Denny McLain. Bowie Kuhn would later write that it was odd, because it was incongruous to think of an individual with the talent and work ethic to be a pro athlete also being a criminal.
It's not as if McLain was a white collar criminal, the type many of us are inclined to forgive - admit it - he was an unsavory type of criminal showing base behavior. Yet he won 31 games in '68 which was an unheard-of accomplishment. Bob Short would eventually make a terrible trade for McLain in Washington D.C.
Oh, and McLain was a musician too! Remember how he endorsed the Hammond organ? Musicians aren't supposed to be criminals either. We are so human an animal.
Bob Gibson fashioned an ERA of 1.12 in 1968. He probably took it personally every time he gave up a run. That ERA was the lowest in 54 years, and he set a World Series record with 17 strikeouts in Game 1. Mickey Lolich of Detroit won three complete games in the '68 World Series. Three complete games! What a different universe baseball was. No talk of "setup man" and "closers."
Luis Tiant of Cleveland had a 1.60 ERA in the American League. He allowed a batting average of .168 - a record. Drysdale's unscored-upon streak went to 58 2/3 innings. Catfish Hunter of Oakland threw the first perfect game in the A.L. in 12 years. Just one batter in the A.L. had an average over .300: Carl Yastrzemski, who barely eclipsed that mark.
The A.L.'s slugging average of .340 was the lowest since 1915 (the dead-ball era). The A.L.'s cumulative batting average of .231 was an all-time low. Yes, there was a problem.
Pitchers had everything figured out. It was time to humble them and juice up the game. I would argue the change was belated. But it happened following that "year of the pitcher," and it had the MLB rules committee rolling up its sleeves. The strike zone was reduced - the most obvious step.
It didn't stop there, as the mound was lowered from 15" to 10". (That's "inches," for all you Spinal Tap fans.) Jim Bouton would joke in his book "Ball Four" about how some players blamed their slump on this. But the hitters were truly a beneficiary.
You might say pitchers were "brought down to earth." Fans didn't notice the details. We just saw the results.
Pitchers with a three-ball count were going to have to take some mustard off their next delivery, lest they have a baserunner at first with a walk. A batter could dig in. Indeed, the 1969 averages climbed back to historical levels. Pitching would never again be so dominant. Those soccer aficionados who appreciated negligible scoring could just stick with soccer.
We in Minnesota actually experienced a significant phase in our history with the Minnesota Kicks soccer team. But we never let go of our Minnesota Twins.
The Twins in 1967 had the most heartbreaking season in team history. Bring on the "year of the pitcher." The 1968 Twins story was a 79-83 W/L record which put them in seventh place. Cesar Tovar handled the pitching dominance quite fine as he was second in the league in hits with 167. He was third in runs with 89. Tony Oliva stayed quite sharp in his hitting but fell below .300. His .289 was actually superb as it was third in league. Oh, if Tony only could have stayed healthy his whole career.
Harmon Killebrew was injured in the All-Star Game and missed much of the rest of the season. He hit 17 home runs and had 40 RBIs.
Four of our pitchers won ten or more games: Dean Chance (16-16), Jim Kaat (14-12), Jim Merritt (12-16) and Dave Boswell (10-13). Boswell was the guy who would get into a fistfight with Manager Billy Martin. Kaat won his seventh Gold Glove in 1968.
Killebrew was one of three Twins in the All-Star Game, joined by Carew and Oliva. The All-Star Game seemed a much bigger deal in those days, when our opportunity to see non-Twins stars on TV was much more limited (the limited reach of television compared to today).
Minnesota had the fourth highest attendance in the American League, of 1,143,257. Metropolitan Stadium still stood there like a grand castle on the Bloomington prairie.

The outside world in '68
We as a nation faced much bigger problems in 1968 than the dominance of pitching. The North Viet Nam and Viet Cong troops launched the Tet Offensive. The Soviet Union invaded Czechoslovakia. War protests swelled in the western world. The assassination of Martin Luther King led to violence and race riots.
U.S. soldiers massacred men, women and children in My Lai. LBJ announced he would not seek re-election. "Bobby" got shot in Los Angeles.
In the non-tragic side of the ledger we had the first Big Mac going on sale for 49 cents. The Beatles recorded "Hey Jude." Moviegoers took in "The Graduate," "Guess Who's Coming to Dinner," "Bonnie and Clyde" and "Planet of the Apes." (Shouldn't Charlton Heston have been suspicious when he noticed that all the monkeys were speaking English?)
The Doors recorded "Hello, I Love You," and Simon and Garfunkel gave us "Mrs. Robinson." Will Smith was born!

Rocky season for our Harmon
Our beloved Hall of Famer-to-be Harmon Killebrew began 1968 as a prosecution witness in a case where his name was being used to sell stocks in Idaho, unknown to him.
Killebrew felt the wrath of the "year of the pitcher." Yes, he made the all-star team but he had an anemic .204 average at the all-star break, with 13 home runs. He started at first base for the A.L. all-stars. He admitted being embarrassed by his selection. We would have been so much better off had he not made the trip to Houston. In the third inning he stretched for a ball thrown by shortstop Jim Fregosi, his foot slipped and he did the splits. He ruptured his left medial hamstring and was carried off the field on a stretcher.
It was a career-threatening injury, but after missing six weeks he returned to limited action. After seven months of rehab, he was still in pain but he rebounded to have his best season in 1969.
Of course the pitching had been diminished for that '69 campaign which was the first with East and West divisions. The Twins with Martin as skipper won the West in 1969.

A player we ought to remember better
I'd like to acknowledge an unheralded Twins player from the mid to late 1960s. He's Ted Uhlaender, an outfielder who was solid if unspectacular in his contribution. He came through with a .283 average in that year of the pitcher. He had 138 hits, 21 doubles, five triples, seven home runs, 52 RBIs and 16 stolen bases in '68. His stats were similar in 1969.
Ted was fleet of foot and manned the center field position. I remember the Twins broadcasters always mentioning that he was from McAllen TX (way down south). He was traded to Cleveland in 1970 and played his final year in big league ball in '72 with Cincinnati. He batted lefty. His last name takes a little practice to type. It's too bad he couldn't break through to some stardom somehow.
Ted Uhlaender passed away in 2009 at age 69. He was signed by the Twins in 1961, our first year. Ted Uhlaender, RIP. Harmon Killebrew, RIP.
Those were exciting years of baseball for Minnesota's then-young boomer population. We were emotionally invested. Players hadn't yet gotten all that leverage for huge contracts. For the best ones, it didn't matter because they could parlay their names into great riches in the future, going to card shows etc. That's all Denny McLain would have needed to do. But his DNA was of a common criminal right out of film noir. A shame.